One-Woman Play 'Abhaya' Mesmerizes Audience
Shegaon: In a riveting display of talent and storytelling prowess, the one-woman play 'Abhaya' took center stage at the prestigious Shri Sant Gajanan Maharaj College of Engineering (SSGMCE, leaving the audience enthralled and deeply moved.
The play written and directed by Meena Naik narrates story of a 16-year-old girl Abhaya who gets sexually abused by a stranger on the street. The play creates awareness about the Protection of Children from Sexual Offences Act (POCSO).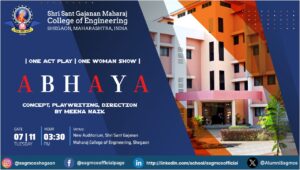 Writer: Meena Naik
Director: Meena Naik
Cast: Sneha Dhadawai
Music: Nilesh Bodle
The SSGMCE staff and students that witnessed this remarkable performance will undoubtedly cherish the memory of 'Abhaya' for years to come.
#ssgmceshegaon #ssgmce #childabuse #poscoact #posco #awareness #abhaya #onewomanplay #theatre #play #monoact #justice #blogssgmce.in #www.ssgmce.ac.in