27 Students recruited by Virtusa
Shegaon: Twenty seven final year students of SSGMCE, Shegaon are recruited by Virtusa in the recently conducted drive. Three students received a package of 6.5LPA and the 24 students received a package of 4.5LPA
The recruited students are:
CSE:
Deepali Masne
Tanuja Paraskar
Tanmay Thag
Disha Gupta
Aishwarya Bute
Anurag Tiwari
EXTC:
Kumar Ashish
Janhavi Jaiswal
Pratik Bhusari
Vedant Khandokar
Dnyaneshwari Dhage
Mandeepsingh Bagga
Karansingh Chandel
Divya Wagh
Mansi Kulkarni
Ankush Bharambe
Manasi Kulkarni
Prasad Ugale
I.T.:
Neha Lokhande
Prajyot Burbure
Suyash Chilwarwar
Prajwal Vijaykar
Muskan Bhagat
Hritik Kahalkar
Monish Sathe
Om Masne
Vivek Bhore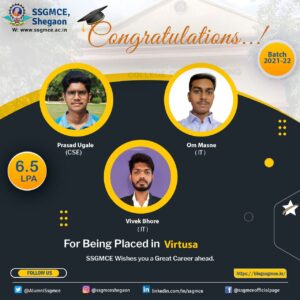 As always, this year too, SSGMCE students are being recruited by reputed MNCs. Till today, 264 students have placed in various companies. (Sanctioned Intake-360)
Hearty congratulations to all the selects!!!