Workshop on "Campus to Corporates" by Ashok Jambur
SSGMCE, Shegaon
Workshop on "Campus to Corporates" by Ashok Jambur(Former Chief General Manager, India)
Shegaon: Shri Ashok Jambur (Former Chief General Manager, India) addressed engineering and management students & faculty members of SSGMCE, Shegaon on "Campus to Corporates". In sessions organised on 26, 27 & 28 December 2022 for students, and faculty members, Shri. Ashok Jambur shared experiences of his professional career and provided many new insights to all. He discussed wide range of issues, challenges and opportunities in the present era. He also threw light on sustainable development and energy conservation.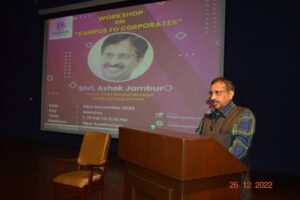 In an interaction with students, he advised students to:
·Know the importance of preparation, planning, and organization to become better citizen and for better future.
·Stay mentally and physically fit to sustain competition.
·Realize the importance of time management, hard work and good character.
·Stay humble.
·Cultivate attitude of gratitude for stronger, happier and longer life.
·Take risk to unfold true potential in you.
·Do something for environment and human kind.
·Know the difference between success, happiness and satisfaction.
His session were thought-provoking which motivated students to perform better in professional life. He answered the queries of students with numerous examples.
SSGMCE, Shegaon would be happy to strengthen ties with him for the professional development of students.