Sixty-Five students placed in TCS
Shegaon: The placement season for the 2023 graduating batch has started and after the initial round of recruitment process, sixty-five final year students of SSGMCE, Shegaon have been offered placement with TCS Ltd. Out of sixty-five, seven students have received the Digital Offer (7 Lac Per Annum).
In order to ensure the success of the college students in campus placement drives, the college through Training and Placement Cell organizes training sessions on aptitude, communication skills, Body Language, Soft Skills, Technical Skills, GD techniques, coding skills, interview skills by experts on a regular basis. As a result, the students are able to secure jobs along with their engineering certificate while leaving the college upon completion of their studies.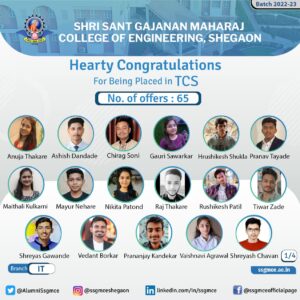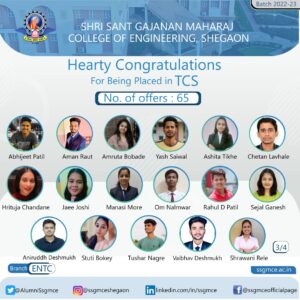 Earlier, sixteen students got placed in Tech Mahindra, one in each ParentPay Software & Aker Solutions Pvt. Ltd., Mumbai, and eight in Hexaware Technologies.
The college has been approaching several new companies along with those which have visited us earlier and many companies have responded already. The maximum opportunities are being provided to the eligible students. There will be drives of many reputed companies in the coming period. Students are elated as job opportunities are available even before the completion of education.
Hon. Director, Principal, T&P Officer, all heads of the department, teaching and supporting staff congratulated the students for their success.